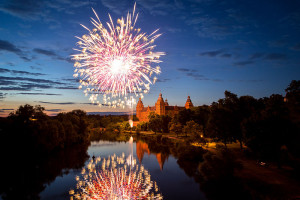 Dear readers, thank you for your interest in this blog during the last year! Let me start 2017 by wishing all of you a happy New Year, both professionally and privately. Also, I would like to take the opportunity to look back at 2016.
I always try to provide content that I hope you find interesting. While I am not certain that you are interested in what others read on this blog in 2016, I certainly am, and I will try to get some guidance from this as to what you might want to read in 2017. If there are topics that are dear to your heart, please let me know, it is always great to get some feedback. This having been said, these were the top 10 posts in 2016:
The most read post in 2016 was somewhat off topic, a 2015 piece on Labyrinth of Lies, a biopic about Fritz Bauer, the public prosecutor behind the Auschwitz trial. Whenever I post on something "off topic", I wonder whether you are at all interested. Apparently you are: The  post on the  Fritz Bauer movie claimed the top spot back in 2015 as well, with the post about the Fritz Bauer exhibition at the Jewish museum in Frankfurt coming in as no. 10 that year. Fritz Bauer has become somewhat of an unlikely movie hero, with two further films having been made about him – given the interest, it may be worth following up on this.
Three of the top ten posts dealt with transparency in international arbitration, namely with the streaming of the hearing in the ICSID case of Vattenfall vs. Germany (no. 3), with my analysis of the first data the ICC released on arbitrators sitting in ICC cases (no. 4) and finally on the measures the ICC announced to enhance transparency and efficiency (no. 9). The fourth arbitration-related post was a 2011 classic on the perennial issue of pathological arbitration clauses stipulating a non-existing arbitral institution (no. 10).
Two of the top litigation posts also fall into the classic category – covering Germany's position on discovery of documents under the Hague Evidence Convention (no. 5) and Germany's class action, namely its collective action procedure for securities claims, KapMuG (no. 7). Both claimed top 10 spots back in 2015 as well. The third was Patrick Dahm's guest post on Singapore's ratification of the Hague Convention on Choice of Court Agreements (no. 8).
Art law features twice in the top 10, with the court ruling on Cornelius Gurlitt's last will by which he left his collection to the Berne Museum of Fine Arts (no. 2) and a 2014 post on a court order saving a fake Jörg Immendorf painting from death row by revoking an order to destroy it (no. 6). We will have a post on a recent Berlin judgment on the destruction of a fake Max Pechstein drawing shortly.
Five of the top ten posts were published in 2016, and the other half is fairly well spread out across the previous years. So it would appear that to some extent, the blog is not only used as a resource on new developments, but also serves as a repertoire of German dispute issues.
***
The photo by Carsten Frenzl shows fireworks at Aschaffenburg Castle.