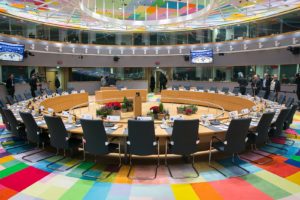 While the Brexit Deal continues to make headlines, the EU and the UK carry on with the implementation of the institutional Brexit arrangements. The Withdrawal Agreement provides for an EU-UK Arbitration panel to decide disputes between the parties. Yesterday, the Council Decision appointing the members of the panel was published. The title of the document is quite a mouthful, but then it tells you all there is to know about the document, the remainder really is just a list of names:
"Council Decision (EU) 2020/2232 of 22 December 2020 on the position to be taken on behalf of the European Union within the Joint Committee established by the Agreement on the withdrawal of the United Kingdom of Great Britain and Northern Ireland from the European Union and the European Atomic Energy Community as regards the adoption of a decision establishing a list of 25 persons who are willing and able to serve as members of an arbitration panel under the Agreement and on a reserve list of persons who are willing and able to serve as Union members of an arbitration panel under the Agreement."
And here is the list. You will most likely recognise prominent arbitrators and academics on the list. I plan to follow up with a closer analysis later, but some initial observations: 60% of the Chairpersons are female, as are 40% of the ordinary members nominated by the EU and 20% of those nominated by the UK. On the reserve list, only 12% of the nominees are women. The Mr Jan Wouters on the list is the professor of International Law and International Organization at KU Leuven, Belgium, and not the former Dutch international who played for Bayern München in the early nineties.
Chairpersons for the Withdrawal Agreement Arbitration Panel
Ms Corinna WISSELS
Ms Angelika Helene Anna NUSSBERGER
Mr Jan KLUCKA
Sir Daniel BETHLEHEM
Ms Gabrielle KAUFMANN-KOHLER
Ordinary members for the Withdrawal Agreement Arbitration Panel EU:
Mr Hubert LEGAL
Ms Helena JÄDERBLOM
Ms Ursula KRIEBAUM
Mr Jan WOUTERS
Mr Christoph Walter HERRMANN
Mr Javier DIEZ-HOCHLEITNER
Ms Alice GUIMARAES-PUROKOSKI
Mr Barry DOHERTY
Ms Tamara Ćapeta
Mr Nico SCHRIJVE
Ordinary members for the Withdrawal Agreement Arbitration Panel UK:
Sir Gerald BARLING
Sir Christopher BELLAMY
Mr Zachary DOUGLAS
Sir Patrick ELIAS
Dame Elizabeth GLOSTER
Sir Peter GROSS
Mr Toby LANDAU QC
Mr Dan SAROOSHI QC
Ms Jemima STRATFORD QC
Sir Michael WOOD
Reserve list of candidates who are willing and able to serve as Union members of an arbitration panel under the Withdrawal Agreemen
Mr Myron NICOLATOS
Mr Ezio PERILLO
Mr Vilenas VADAPALAS
Mr Andreas MÜLLER
Mr Pierre d'ARGENT
Mr Radostin Georgiev PETROV
Mr Costas CLERIDES
Mr Antonin MOKRY
Mr Carri GINTER
Mr Nikolaos MARKOPOULOS
Mr Jukka SNELL
Mr János MARTONYI
Ms Alessandra PIETROBON
Mr Ignas VEGELE
Ms Anita KOVALEVSKA
Mr Kaj I. HOBER
Mr Matej AVBELJ
Photo:EU2017EE Estonian Presidency, European Council (38185339475), CC BY 2.0