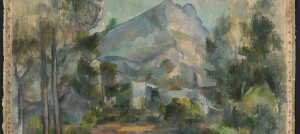 In November 2013, the Gurlitt saga propelled the complex historical and legal issues around looted art into the spotlight. It created, perhaps for the first time, an awareness for the importance of provenance research within the wider public. However, with Cornelius Gurlitt entering into an agreement with the Federal Republic of Germany and the State of Bavaria in April 2014 and his death shortly thereafter, on 6 May 2014,  the matter has disappeared from the headlines. The opening of the exhibitions in Bonn and Berne in autumn last year brought the topic back at least to the art pages. Behind the scenes, the provenance research into the artwork in the good estate continues, but rarely gets publicity. Yesterday was an exception: Frankfurter Allgemeine reported that the Berne Museum of Fine Arts and the estate of Paul Cézanne had reached an agreement on Cézanne's 1897 painting "La Montagne Sainte-Victoire", arguably the commercially most valuable painting in the Gurlit collection.
As previously reported, Cornelius Gurlitt left his collection to the Berne museum, which was subsequently confirmed as his heir by the Court of Appeals (Oberlandesgericht) München. The museum accepted the bequest, however, only in relation to works of art that were not tainted by any suspicion of being looted art. The terms of that revelation were set out in the trilateral agreement between the museum, the Federal Republic of Germany and Bavaria.
"La Montagne Sainte-Victorie" was found in Cornelius Gurlitt's Salzburg home. It remained unclear when and how Hildebrand Gurlitt acquired the painting – most likely, he obtained it between 1940 and 1944, when he sourced art work in France. The last known owner before Hildebrand Gurlitt was Paul Cézanne fils, who had it in his possession from 1936 until 1940. Hildebrand Gurlitt then first mentioned it in a 1947 letter; the painting's whereabouts in the interim period remain unclear. Under the settlement, the Cézanne family accepted that title passed validly onto the museum. In return, the Cézanne family are entitled to exhibit "La Montagne Sainte-Victorie" regularly at Musée Granet in Aix-en-Provence, Paul Cézanne's home town.
Today, Frankfurter Allgemeine followed up with an interview with Nina Zimmer, the director of Berne Museum of Fine Arts discussing the matter in more detail.