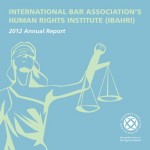 Today is Human Rights Day. December 10 commemorates the day when in 1948 the United Nations General Assembly adopted the Universal Declaration of Human Rights.  I have posted about Amnesty International's "Write for Rights" campaign last week, and today, I wanted to draw your attention to the the International Bar Association's Human Rights Institute (IBAHRI).
IBAHRI works to promote and protect human rights under a just rule of law. From its mission statement: "The IBAHRI believes that the independence of the judiciary is one of the cornerstones of the rule of law and works to protect the right and ability of judges and lawyers to be able to practise freely and without undue interference." See their 2012 Annual Report for an overview of the issues the IBAHRI is tackling.
P.S.: If you would like to support Amnesty International, may I remind you that all flattr donations on this website will be matched by me and go to Amnesty International. The flattr button is right below.