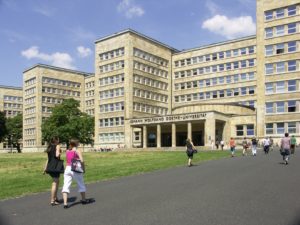 Goethe University's Law School has just announced the details for this year's course in German and International Arbitration. Again, this year's edition will be completely virtual, so it might be of interest to students outside Frankfurt as well. Here is the official course announcement:
"Thinking about a career in international arbitration in Germany or abroad?
Wanting to learn more about commercial arbitration? This Goethe University curriculum provides a comprehensive introduction to the theory and practice of German and international commercial arbitration. Some of the most eminent arbitration specialists from major international law firms offer their knowledge and experience in a lecture series conducted in English. Offered weekly, in the early evening hours, for one semester to a maximum of 30 highlymotivated participants."
For the last couple of years, I have been teaching one of the modules and will do so again this year. Whether that makes me an eminent arbitration specialist is for you to jugde. The course runs from 19 April to 19 July 2021 from 7:30 pm to 9:00 pm hours. There is a maximum of 30 participants. See here for details, and apply before 5 April 2022.
Photo: © Uwe Dettmar, Goethe-Universität