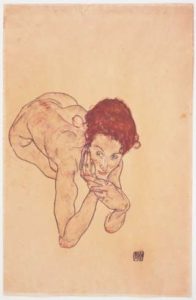 From its beginning in 2005 until 2020, the Advisory Commission has issued a total of 18 recommendations, and with one exception, it has never issued more that two recommendations in one year – in 2016, three recommendations were handed down. Given its start into 2021, the Advisory Commission might be on track for a new record. It  started with two recommendations within a couple of days: On 2 February 2021, the Advisory Commission published its decision in Max Fischer v. Staatliche Kunsthalle Karlsruhe, followed by a second recommendation in Heinrich Rieger v. Stadt Köln on 8 February 2021.
The Advisory Commission recommended the restitution of an Egon Schiele drawing to the heirs of Heinrich Rieger. Heinrich Rieger was a Jewish Austrian dentist and one of the earliest and most important collectors of Egon Schiele and Schiele's contemporaries. Heinrich Rieger was deported to the Theresienstadt Ghetto, where he died; the exact date of his death is unknown. In 1944, his wife Bertha was deported to and killed in Auschwitz. After the so-called Anschluss of Austria in March 1938, the Rieger family had been subject to severe persecution; Heinrich Rieger was no longer allowed to practice as a dentist. He lost large parts of his art collection through distressed sales and through "aryanisation".
Heinrich Rieger most likely acquired the drawing in question, Kauernder weiblicher Akt (Crouching Female Nude) from Egon Schiele himself. Rieger treated Schiele as a patient, and was known to have accepted works of art in lieu of payment for his medical services. The specific fate of the Crouching Female Nude is unknown after March 1938. Rieger only disposed of works by Schiele in rare exceptional cases. The Crouching Female Nude reappeared on the market in 1965. It was then in the possession of Walter Geyerhahn. Geyerhahn's father Norbert, a Jewish merchant from Cologne, had fled Germany in July 1938 to Brazil. Norbert Geyerhahn took various Schiele works with him to Brazil. However, it was unclear when he had acquired the Crouching Female Nude and whether it was part of the collection he took with him into exile. Via art dealers in Austria and Switzerland, the drawing was acquired for the Wallraf-Richartz-Museum in Cologne in 1966.
On the basis of the evidence before it, the Advisory Commission reached the conclusion that the Crouching Female Nude was a part of Rieger's art collection in March 1938 and was subsequently lost as a result of Nazi persecution. Hence, the Advisory Commission recommended the restitution of the drawing to Heinrich Rieger's heirs. The City of Cologne has accepted the outcome of the procedure and will implement the recommendation.
Photo: Schiele, Egon, Kauernder weiblicher Akt (Crouching Female Nude) 1917, drawing, watercolour and pencil on paper; Köln, Museum Ludwig, Grafische Sammlung, (c) Rheinisches Bildarchiv.