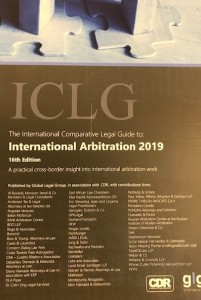 Donata von Enzberg and I have authored the German chapter in the ICLG International Arbitration 2019. The guide covers common issues in international arbitration laws and regulations – including arbitration agreements, governing legislation, choice of law rules, selection of arbitral tribunal, preliminary relief and interim measures – in 52 jurisdictions,
We still have some hard copies to give away – if you are interested, let me know and we will ship a copy to you, while stocks last.
In addition to the chapters on the individual jurisdictions, the guide contains five general chapters on
Regulation of Counsel and Professional Conduct in International Arbitration
and five regional overview chapters for Asia Pacific, Europe, Latin Amercia, Middle East & Africa and North Amercia. The Asia Pacific chapter is written by Dr Colin Ong QC from Brunei, who was opposing counsel in one of my first international disputes ever, and one of my exotic ones, as it took me to the Court of Appeals in Brunei.