The "Law Made in Germany" initiative is seeking to promote the use of German law in international business transactions. The initiative is largely a reaction to a similar initiative of the Law Society in England & Wales.
This year, its annual symposium is held literally just across the road from our offices in Frankfurt. The headline reads: "Re-thinking justice?! Do we need a Commercial Court?" My personal opinion is clear: Yes, we need one, and we need it rather sooner than later.
But for a variety of reasons, we struggle to set up a real commercial court, in comparison to our neighbours in France or the Netherlands – Germany's federal structure being one of the reasons, as we lack an obvious commercial centre where such a commercial court would be located, and national bodies such as the German Federal Bar or the Ministry of Justice are hesitant to throw their weight behind one of the several local or regional initiatives like the one in Frankfurt. In my view, Frankfurt would be an obvious contender, and I do not think that this is only due to my home bias. As I observed at this year's IBA Conference: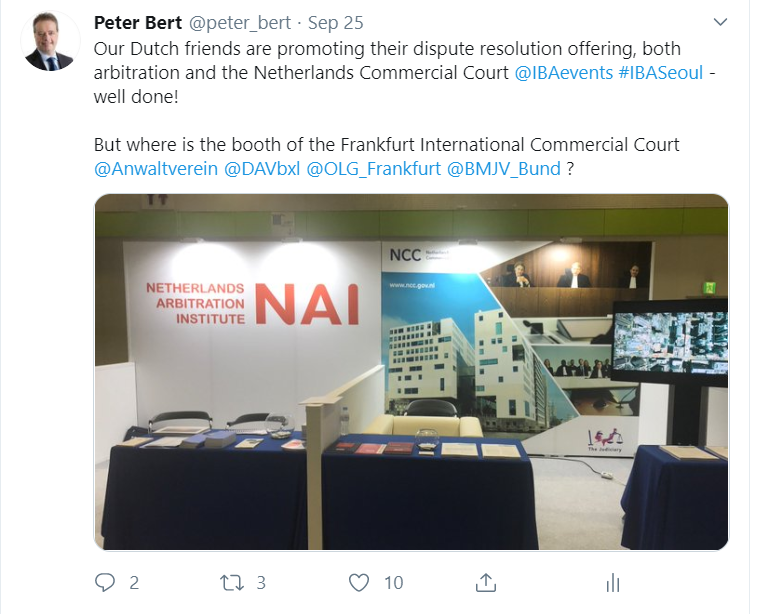 In any event, the symposium is an excellent opportunity to hear from London, Singapore, Brussels, and Amsterdam how they have set up their commercial courts and what their experience has been so far. Here is a link to the programme and the online registration tool.