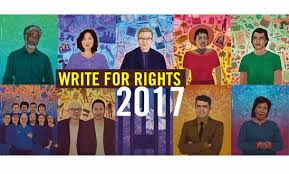 10 December is Human Rights Day. The date was chosen to honour the United Nations General Assembly's adoption and proclamation, on 10 December 1948, of the Universal Declaration of Human Rights.
The Universal Declaration of Human Rights was the first global enunciation of human rights and one of the first major achievements of the new United Nations. The Human Rights Day itself was established at the Plenary Meeting of the General Assembly on 4 December 1950.
This year, Human Rights Day kicks of a year building up to the Universal Declaration's 70th birthday on 10 December 2018. The year-long initiative will promote the Declaration and its relevance in everyday life.
As always, amnesty international invites you to write for Human Rights – see here for details of this year's campaign.