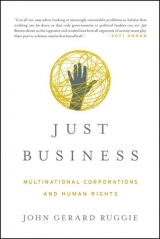 John Ruggie's book, "Just Business – Multinational Corporations and Human Rights" has finally landed on my desk, thanks to a blog reader. The book was launched almost to the day a year ago (see here for a video of the event at the NYU Center for Human Rights and Global Justice on May 4, 2013). But as the blog reader kindly pointed out, the Washington Foreign Law Society just announced that John Ruggie will receive the Harry LeRoy Jones Award on June 11, 2014 for his contribution to developing the Guiding Principles on Business and Human Rights, so I do have an excuse to post on the book.
In 2005, Ruggie was appointed as the UN Secretary-General's Special Representative for Business and Human Rights. In that capacity, he developed a set of principles on business and human rights, aimed at strengthening the human rights performance of the business sector around the world. These principles were, in June 2011, unanimously endorsed by the UN Human Rights Council. "Just Business" is Ruggie's story of the six years of research, consultations and pilot projects that lead to the principles.
The legal profession – the profession outside the human rights bar, that is – also starts to recognize that human rights are of relevance to their practice: The American Bar Association endorsed the Guiding Principles in 2011. In 2013, the Law Society of England and Wales established a Business & Human Rights Advisory Group, which earlier this year, recommended that the Society take specific steps to integrate the Guiding Profession into the practice of law. The International Bar Association on April 30, 2014 announced that it has set up a new Business and Human Rights Working Group. The group is supposed to design, and advise on the implementation of, a capacity building and technical assistance plan to help bars raise awareness of the UN Guiding Principles on Business and Human Rights for legal professionals.
Corporate or securities lawyers should have a look at the directive on disclosure of non-financial and diversity information adopted by the European Parliament on April 15, 2014 as part of the European Union's strategy on corporate social responsibility.
If you have read this far, it is fair to assume that you have some interest in human right. So I use this opportunity to remind you that you can "flattr" the blog. Whatever you donate, I will match and donate to amnesty international. Ruggie and amnesty international (as well as other NGOs) had their fair share of controversy, but the book has now been published in the Amnesty International Global Ethics Series.